And the Winners of Spirit Week 2019 are…
Posted by Sara Flanagan
July 24, 2019
Incserv held their second Spirit Week from July 15 through July 19, with the winners crowned on Friday.
Monday
There was a strong showing from the Green Team right out of the gate with 10 team members dressing in green for Team Spirit Day!
In contrast, the Blue Team used some creativity (including a blue tattoo) to rack up 5 points for their team.
The Green Team took an early lead on the first game of Spirit Week, pulling in 68 points in the first 15 minutes compared to Blue's 15 points in Capture the Flag (similar to a big seek and find). Both teams were neck and neck with Blue pulling ahead with 30 minutes remaining, but Karen from the Green Team found a flag worth enough points to secure a win for the Green Team!
Monday's final game was Cards Against Humanity. Both teams remained tied until the very end. The Green Team swept the day, winning the game with only 1 point more than the Blue Team!
Tuesday
The second day of Spirit Week had everyone in their retro clothes with Blast from the Past Day!
Blue had a small showing with 5 team members showing off their best retro outfits.
Green dominated this day's Wear This with most of the team participating.
Everyone played Blast from the Past Trivia today with questions from history such as "The Beatles released these two songs as a double A-side single. What were the songs?", "Popularized during the early 1990s, what game used milk cap discs made of cardboard and slammers?", and "In what year did Batman first appear on the cover of a comic book?" Collaboration with team members and even family members was permitted, but Google was absolutely forbidden. Camille pulled out a win for the Green Team with a score of 24/25 correct. Straight victories on the first two days of Spirit Week had the Green Team feeling pretty confident about winning the entire thing!
Wednesday
The Incserv team walked into the building Wednesday to be greeted by this:
It's Christmas In July! And staff was left to wonder about this until late shift arrived around 11:30 a.m. When the email went out that everyone was free to grab a number from a bucket and find their corresponding gift, the table was quickly emptied as staff searched for and procured their presents. Some decided to trade their gifts before they opened them at 3pm, and others held onto theirs.
The Wear This! photos were very festive, with the Green Team comfy in their PJs (and their Ugly Christmas Sweaters T-Shirts)!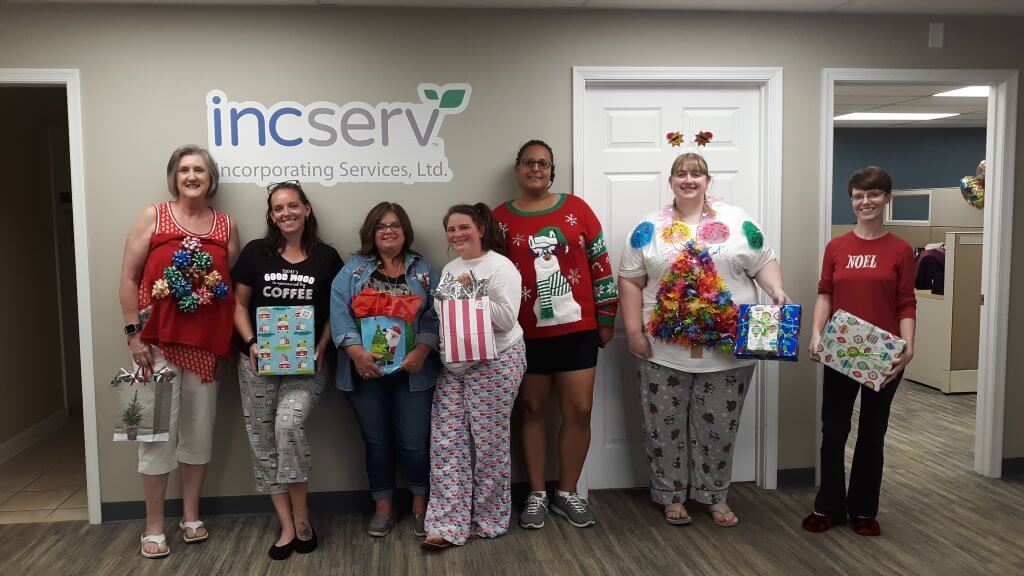 In keeping with tradition, five members of the Blue Team dressed in their PJs and posed with their presents.
The first game of the day was the Saran Wrap Ball Game where staff tried to unwrap large balls of Saran Wrap as quickly as they could, passing to the next person if they got doubles. Continuing their streak, Green again pulled out a win with Barb getting to the gift card in the center of the ball first.
In the afternoon, staff gathered to fold paper airplanes and let them fly! After an intense 60 seconds of paper folding, 10 staff members threw their planes down the hallway toward Operations. Blue Team member Estrella's plane went the furthest, leading to a win for the Blue Team!
Thursday
It appeared most of our staff got dressed in the dark on Thursday – but in reality, it was just the teams celebrating Wacky Day!
Six Blue members had on their oddest outfits.
And eight team members from Green showcased their mismatched outfits.
We had five participants per team participate in our first Hula Hoop Relay. Everyone linked hands and had to pass a hula hoop from the first person in line to the last by stepping through it without unlinking hands. The Blue Team proved they were playing to win by finishing this game in 24 seconds, compared to Green's 27 seconds!
Incserv also held their first ever Art Competition! We have some wildly talented team members who decided to showcase their art which was incredibly diverse, from cross stitch to photography to sculpture to table creation and painting/staining, to piano playing, plus so much more!
The Blue Team pulled out a win with 14 votes for Uche's rocket! Sara and Bev from the Green Team came in second and third, respectively, with 6 and 4 votes each.
Friday
The Blue vs. Green split was thrown aside for Mistaken Identity Day where almost everyone decided to dress like one of their coworkers, Steffan, in black t-shirts, jeans, and sneakers. Everyone also sported a paper beer Tervis.
The teams got back into competition mode with 2 Truths and a Lie. Everyone had submitted their truths and lie earlier in the week, and now each player tried to pick the lie from the three choices for each person. The Blue Team continued their streak, pulling out a win with 145 correct answers versus Green's 99!
The last competition of Spirit Week was a Secret Competition. It turned out to be a quiz all about Incserv! It had us scouring our internal documents and our website for answers to 15 questions. The Blue Team proved they were in it to win it with a total of 87 correct answers to Green's 67.
The final tallies were in – the Green Team had 131 points and the Blue Team had 130! But all is not lost! We still had Penny Wars to tally – and the team with the most penny-money in the jars wins an additional 20 points!
After some quick configuring, the results were in…
The Green Team pulled it off by a difference of $39.39
and they were crowned the champions of Spirit Week 2019!
Sara Flanagan
Systems Analyst